At these local shops, success is just the cherry on top
Photography by Elly Hazelrig
Women in Memphis are using their businesses to influence change in arenas that matter. As I made my way around town to meet and learn from women who own food businesses, I was rewarded with the conversations and wisdom of folks who have found their own unique way to offer something sweet to Memphis—literally and figuratively.
Whether it's through sharing expertise, partnering with other badass women, or mentoring our kids, it's clear that these woman-owned businesses are part of something great happening in our city.
Setting people up for success:
Kat Gordon, Muddy's Bake Shop
As Kat Gordon gave me the tour of Muddy's Bake Shop's recently expanded Broad Avenue kitchen, she pointed out how the updated retail shop and brand-new teaching kitchen will make it easier to welcome more people into Muddy's again, but safely. "It's been really exciting to do these micro-transformations throughout the year, live with customers," Kat says. "The shop changed, the location changed, the kitchen changed. We're able to get real-time feedback from customers about what's working well."
For her, learning and getting feedback really are the bread and butter (er, batter) of her business.
"We have a very long history of training and learning at Muddy's."
"I've invested a lot over the years in developing and doing leadership workshops and job skills workshops. We invest in classroom learning and hands-on training. The intention is to set people up for success, and I think that it has," she says.
After attending many training sessions herself, Kat has developed her own workshops that she offers to her staff and local business owners. "All of the workshops are designed for us; they are all internal first. But a few years ago we started getting requests to come do it for other teams," she says.[/vc_column_text][/vc_column][/vc_row]
"The vision workshop is the sexiest and is the most popular, and the feedback workshop is the least sexy sounding. But if you are a professional in any workplace, then part of your job is to give and receive feedback. Most of us are never taught how to do it. We're just flying by the seat of our pants with all this baggage around it."
Collaboration is key:
Mary Claire White, Sugar Ghost
A little further down Broad Avenue at Sugar Ghost—the brand new ice cream and bubble tea shop—I spoke to Mary Claire White, who has taken Kat's vision workshop. "It was so good," she said with a grin as we sat inside the perfectly pink interior of her new business. "I went to her kitchen about a month ago to get the rundown on health department policies. She's been so helpful."
Neither Broad Avenue nor entrepreneurship is new to Mary Claire. "I have deep roots on Broad," she says. Her boutique, Falling Into Place, is next door to Sugar Ghost and has been open for six years. In that time she also organized and launched the First Fridays on Broad event.
"As a native Memphian, it means a lot [to be an entrepreneur]," she reflects. "It's an incredibly empowering thing. And I know that there can be a lot of obstacles, especially when you're female trying to do this stuff. But I don't know if it's because I've found the right people or the way that I operate, but I've never met with a lot of resistance; I don't have any horror stories."
Mary Claire is quick to give credit to the other women business owners that she's learned from, partnered with, and befriended along the way.
That list includes Stephanie Jones of Me & Mrs. Jones, Alice Laskey-Castle of the Five In One Social Club, Pat Brown of T Clifton Gallery and Framing (who she calls the Godmother of Broad Avenue), Lisa Toro of City & State and The Liquor Store, and Nuha Abuduhair of 17 Berkshire.
She especially loved creatively collaborating with talented women in the process of opening Sugar Ghost. Her long-time friend Natalie Lieberman of Collect + Curate Studio was the mastermind behind the interior design of the space (read more on page TK). Mary Claire also worked with Allie Mounce of Pretty Useful Co. for the branding design. Allie also designed the super fun wrap for the Sugar Ghost food truck that launched in June 2021.
But why an ice cream and bubble tea shop? Mary Claire says it happened organically. When the space next door to Falling Into Place became available, she knew it would be the perfect space. "I wanted to do ice cream, and bubble tea happened naturally because my daughter and I really love bubble tea," she says.
Being a fan of education ("I used to be a teacher. Everyone in my family were teachers!"), Mary Claire went to not one, but two different ice cream training schools to perfect the product. "I love to create," she says. And it shows.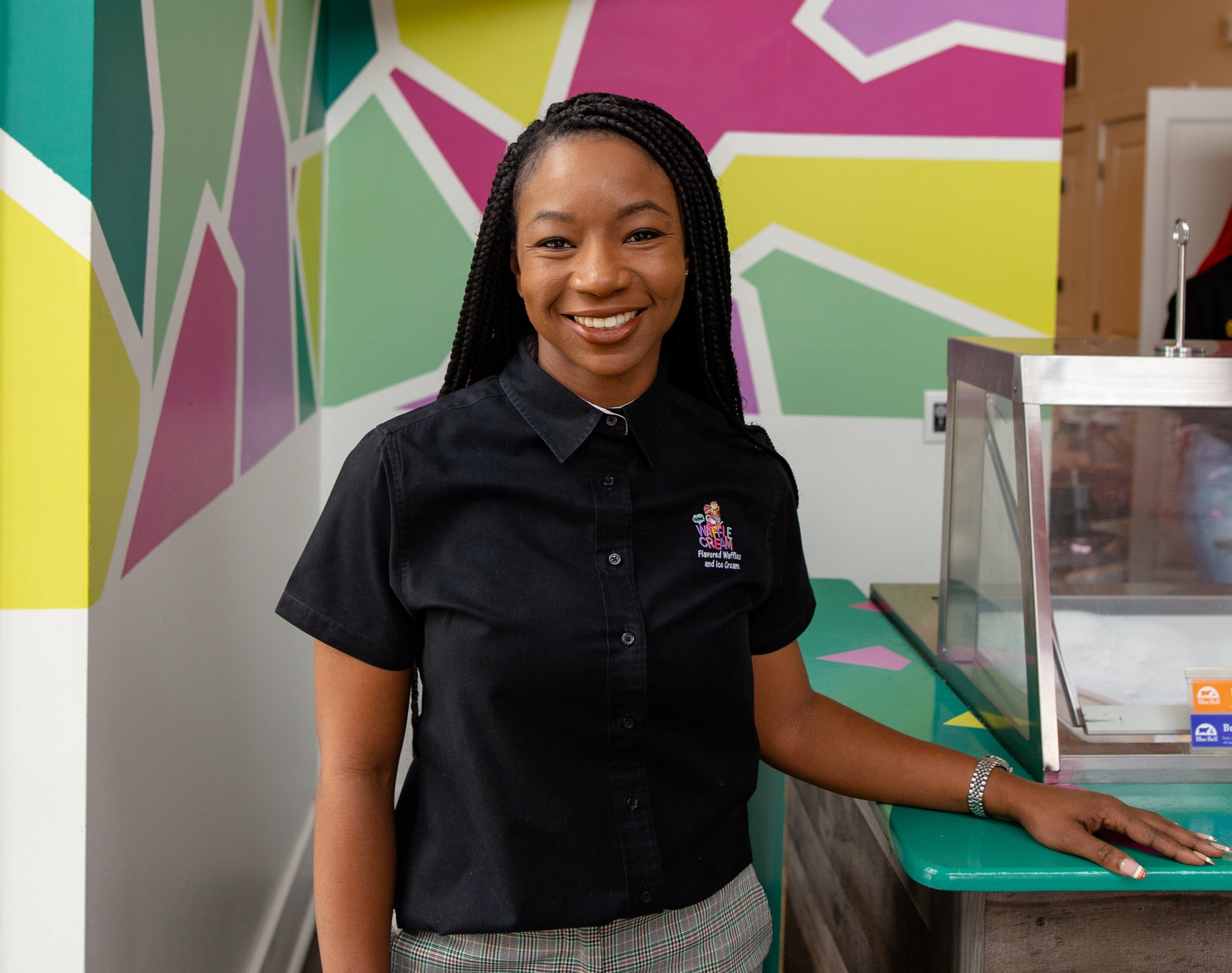 Mentoring the next generation:
Brenae Davis, I Love Waffle Cream
Broad Avenue isn't the only neighborhood to boast some deliciously sweet woman-owned businesses. I made my way over to Cooper-Young to talk with Brenae Davis, the owner of I Love Waffle Cream. Love is in the name, and you experience a lot of it when you step into the peppy space. She says that the business was born from a love of the city, ice cream, and "weird, 'fair-like' desserts."
"I chose to open a business in Memphis because I'm a native Memphian and because it's a food city," Brenae says. "I chose Cooper-Young for the home-like feel and the close-knit community. And I noticed that there weren't any ice cream shops nearby."
But more than just making fun and delicious treats, Brenae is making a place for teen girls to belong and have purpose.
"I wanted to be an anchor for someone who was much like myself as a teenager," she says.
"I was awkward and shy, but mentors and cool programs like the one I have at Waffle Cream really helped to shape me."
Community support is a theme that comes up again and again for Brenae. Mentors and teachers made an impact in her teenage years, and various programs made it possible for her to grow into the entrepreneur she is today. She wants something similar for the teens she hires—to be able to trust her and come to her for advice and wisdom.
Since August 2020, when Brenae first opened the brick-and-mortar store, she's hired 10 teenagers to work in the shop. "Three of those young ladies have since gone on to be top-performing freshmen and sophomores at four-year universities," she said. "So I'm very proud of that!"
How Memphis is different
As women and business owners, all three of these women are investing back into the community in their own ways.
"When women give back, at least when I do, I'm so passionate about my effort," Brenae says. "Passion is what I think women-owned businesses offer the most."
Mary Claire holds similar sentiments. "There's room," she says. "Memphis is one of the friendliest cities for women business owners. Memphis is easy for women to pick up and do something."
Kat also emphasizes how much women business owners are putting into their communities. "And sometimes that's a small community. Just your team, just your customers," she says
And in Memphis, all of this is happening in unique ways, "We're not Nashville," says Kat. "There's a real elegance in how [Memphis businesses] are sharing their creativity while being true to themselves, true to their customers, and true to their community. People aren't afraid to be indie and do things a little different. That is the Memphis spirit."
Jordan Arellano is a writer, dog mom, and Memphis transplant who has called the 901 home for the last five years. Her background is in nonprofit and social media, and she now works in marketing. When she isn't reading, writing, or pandemic stress-baking, she travels as often as possible and eats all the vegetarian fare Memphis has to offer. @are.jordan
Elly Hazelrig, of Haze Photography & Media, is a Memphis-based photographer from Chicago. She aspires to inspire. @haze.photog