Chef Tam's Garden of Hope
Photography by Ziggy Mack
Anyone who's been to Chef Tam's Underground Cafe has experienced the magic that comes from Chef Tamra Patterson's kitchen. Anyone who follows Chef Tam (@cheftamraeddy) on Facebook has gotten to vicariously experience the joy of gardening. Chef Tam regularly goes live from the garden to show her friends what's growing and to share her thoughts on the process.
Chef Tam says her husband is sort of like a kid in a candy store when it comes to the garden. "He's so excited and is extremely supportive," she says. "My son, on the other hand, is a senior in high school. He helps, but he tries to inch away when I'm not asking him for something!"
Her update on June 10 particularly struck a note:
"Gospel in the Garden this morning… and Transplanting my tomatoes and garlic … Transparent moment, I've become obsessed since the murder of George Floyd with keeping things close and keeping things alive, I don't know a mama alive that hasn't clung closer to their children during this time. It's made me obsessed with keeping my plants alive and helping them thrive, I mean if I see one lil sickly leaf I'm like naw you ain't finna kill the WHOLE thing … It's been difficult mentally and I'm okay telling that truth … I've cried more and been more emotive, more angry and more tender. This little piece of earth back here in my backyard brings me peace and hope … Sometimes I force my son to come out and help me do things not because I can't but because I wanna see his face and make memories… #TamsGardenofHope #Tamsgardenofpeace beans, greens, tomatoes, peppers, cucumbers, zucchini, squash, peas, watermelon, eggplant, chives, rosemary, mint, purple basil, garlic and onions."
Chef Tam, who is most excited about her purple hull peas, says, "This is my first garden; however, it feels like I've been doing it forever."
"The uncertainties in life will often force you to reevaluate the way you live, what you rely on, and what you should rely on."
From COVID to the senseless murder of George Floyd, my heart has been pulled right toward my Garden of Hope daily!"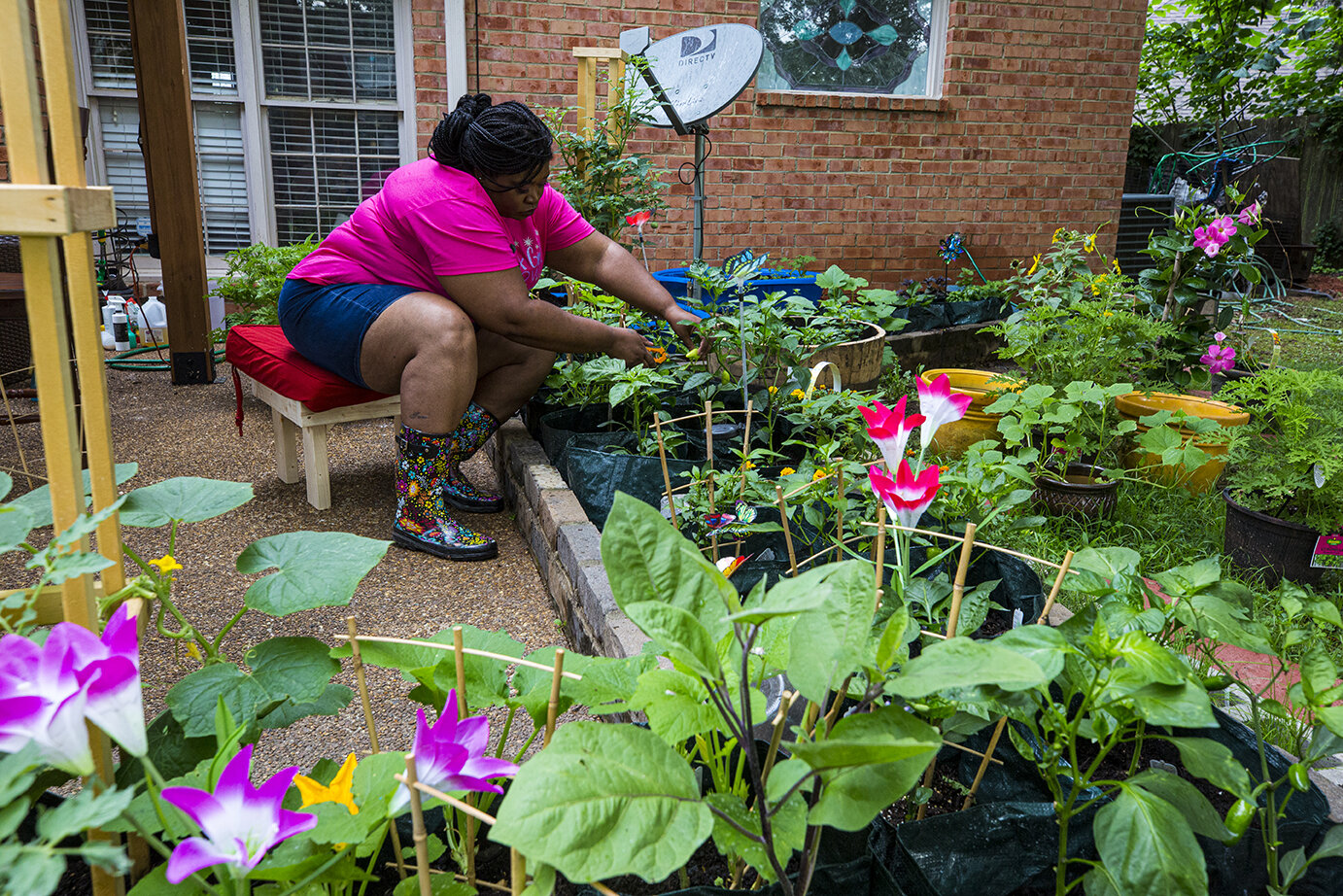 It's clear that the garden is a source of inspiration. On June 13 she wrote:
"Y'all have no idea how it feels to wake up and notice growth, I ain't even see these last night and honestly it had to be cause they were hiding under the leaves or because I wasn't expecting anything on this plant just yet. Either way here's your inspiration for today, just when you aren't expecting it is when God is going to bless you, in the most unlikely place, in the place of awe and surprise… Boom , Bam Ting!"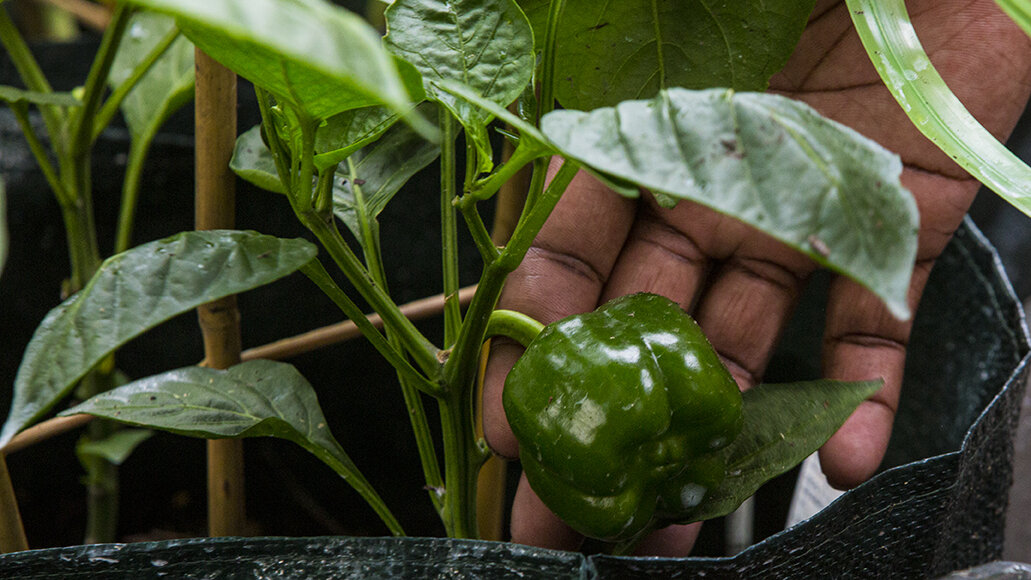 And she's finding metaphors for daily life. From June 11:
"This goes to show how we need each other … the birds are knocking down the seed and homeboy down on the ground collecting … Everyone doesn't have the ability to climb a greased pole, that's why those with (privilege) wings gotta make sure everyone eats, now the squirrels are working too they just ain't got the wings the birds do … America ought to be about everyone doing their part on their level. NOT the winged telling the unwinged they ain't worthy and should starve !!! – Y'all gone get that on the way home."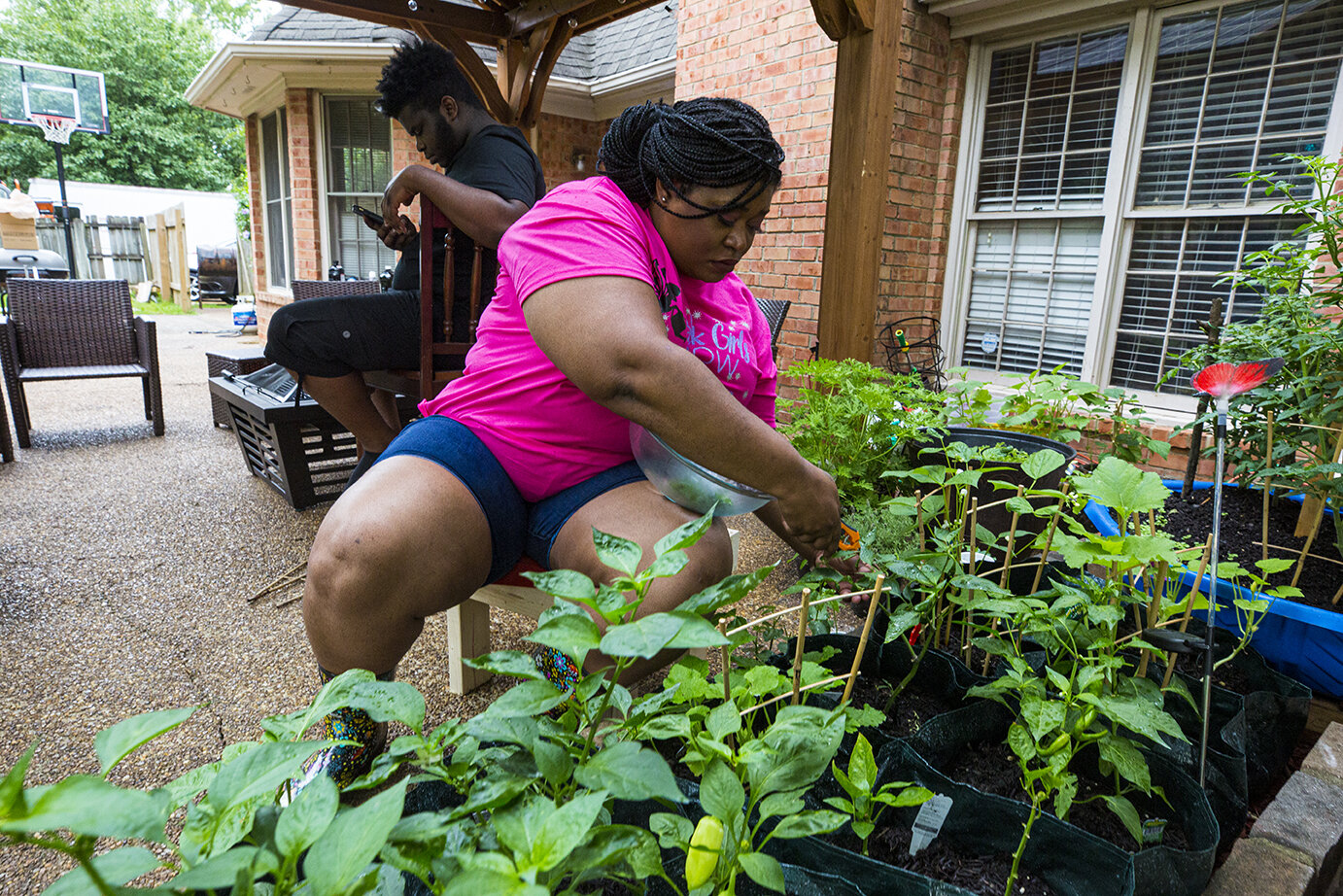 There's also a good bit of humor. Upon finding cucumbers on June 14:
"So that's why this ole fass tail girl was wrapping her lil arm tentacles around EVERYTHANG next to her!!! Home girl was in heat. Anyway let me stop being mean to her since she's obviously pregnant, gone gimme my cucumber Sally with ya fasstail!"
Chef Tam says the "Garden of Hope" has helped usher in peace when the whole world seems to be going bananas. We're honored that she has chosen to share it with us.
---
Chef Tam's Purple Hull Peas
Ingredients:
2 small smoked ham hocks (if you don't eat pork, use 4 smoked turkey tails)
2 cups water
4 cups chicken broth
2 pounds purple hull peas, frozen or fresh
1 cup chopped yellow onion
4 cloves smashed garlic
1/2 teaspoon crushed red pepper
1/2 teaspoon Sprinkle Me Baby seasoning (available at thecheftam.com)
Directions:
Add the ham hock or turkey tails to a large pot with the water and chicken broth and cover with a lid. Simmer the hocks or tails about 1 hour until tender. Add the purple hull peas to this broth, along with the remaining ingredients, and continue to simmer covered until the peas are tender, about 1 hour longer.
Stacey Greenberg is the editor in chief of Edible Memphis. You can follow her at @nancy_jew.
Ziggy Mack is an internationally published photographer about town. When not immortalizing the movements of ballerinas, circus performers, and mermaids, he spends his time finding candid moments involving delectable cuisines and the people that create them. @fomoloop