Flying Sobie's and Ghost River team up with first-rate food, creative drinks, and comfortable atmosphere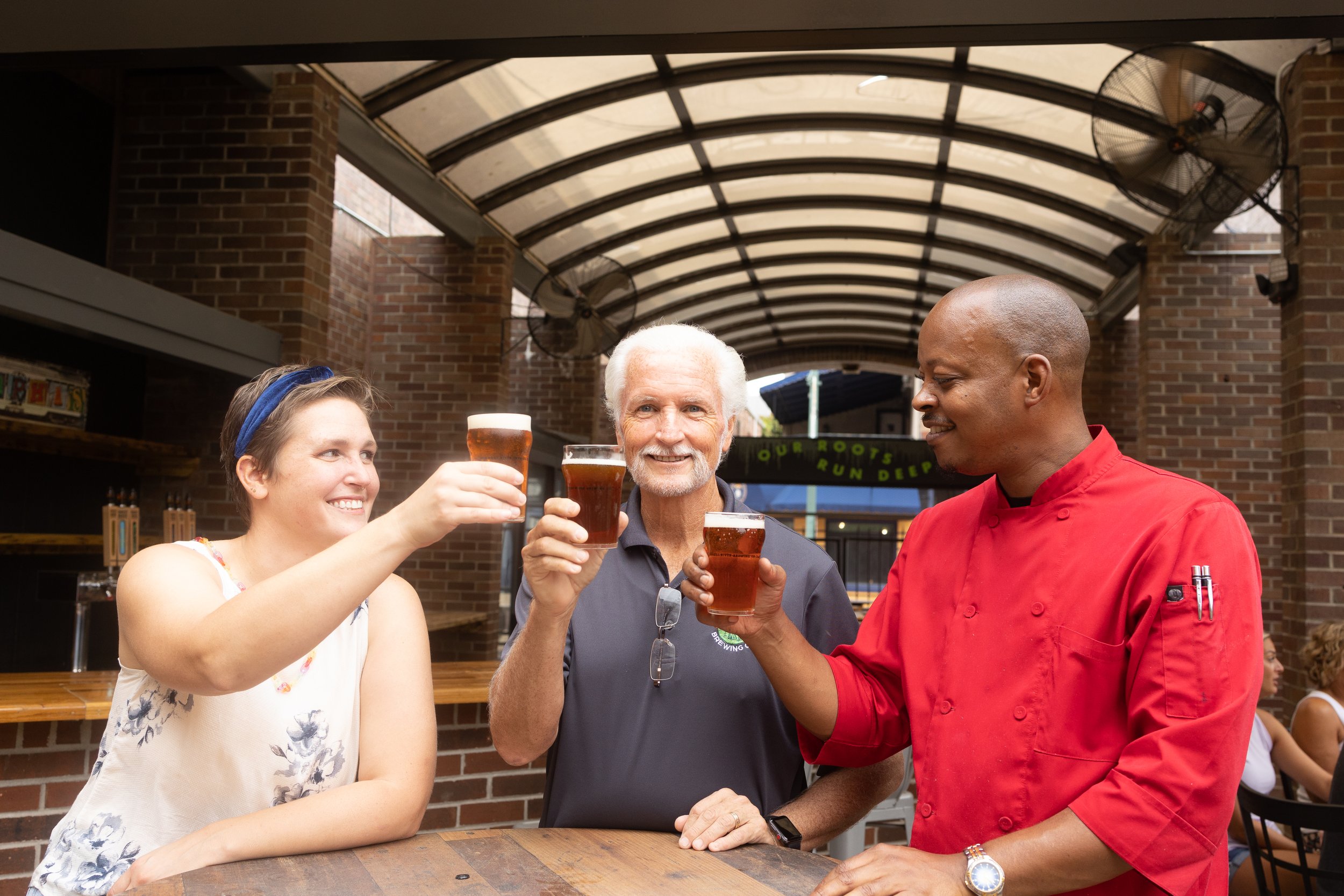 Photographs by Michael Butler, Jr.
Cooking has always been a passion for Chef Sobryus "Sobie" Johnson.
"As a kid, I would wake up on Saturday mornings and turn on the TV. While everyone else wanted to watch cartoons, I would put it on Channel 10 and watch cooking shows," Sobie explains.
As an adult, he made a name for himself in the culinary world with his food truck, Flying Sobie's Hen House. He's expanded his business recently with a brick-and-mortar kitchen inside Ghost River Brewing Company's Beale Street taproom.
Beale Street can get a little wild—but the new Ghost River taproom on Beale is an oasis of the highest degree.
Formerly Lew's Blue Note, the space has been completely gutted and reimagined with a brand new pilot system for brewing beer on-site, a full bar, a beer garden that stretches the length of the building, an outdoor stage, a VIP lounge, and a skydeck. No matter what's going on outside, you can find a comfortable place at Ghost River to devour some great food from Sobie's and enjoy local beer and mind-blowing beer cocktails.
The opening of a local taproom with a locally owned, Black-owned restaurant inside is hopefully the beginning of something beautiful on Beale Street.
How did this partnership get started? For years, Flying Sobie's food truck could be found at the Ghost River location on Main Street on weekends. Then, in February 2020, Bob Keskey purchased Ghost River Brewing Company. One  day, Sobie asked Bob if he'd ever considered building a commercial kitchen inside of the brewery. Bob hadn't, but agreed that it would be a good idea when it was the right time.
A little over a year later, Bob approached Sobie and said, "Now it's time."
Within three-and-a-half months, the doors to Ghost River on Beale (GRB) were open.
Yes, you read that right! From nothing to a full-blown restaurant and brewery in less than four months!
Bob has a logistics background and owns several other businesses, including a lumber yard. He knows how to get things done. His daughter Victoria "Tori" Keskey is his right-hand woman.
When people ask why he bought a brewery, Bob's standard reply is, "I don't know, but I did it twice. Some people might not want to start something when it's slow, but it's better to get a head start on things versus being late."
But timing isn't the only ace up Bob's sleeve. It's also location. "Beale Street gets an amazing amount of foot traffic, plus there's not a lot of things happening on the east end of Beale where we are," he shares.
While smooth jazz plays much of the time, if you're lucky enough to catch live music, it takes the atmosphere to a whole new level. The view of the city from the skydeck is breathtaking. Inside, you can still hear the live music through the speakers and have a nice view of the bar. The best seat is by the window. There's nothing better than people-watching on Beale.
This is definitely a destination spot.
The food isn't just good, it's good good. Memphis has fallen in love with Sobie's delicious cornish hens, but have you ever sunk your teeth into his ground chicken burger? Y'all! The amount of flavor Sobie puts into this is ridiculous. The chicken tenders have been compared to Hattie B's and Gus's.
Not a fan of meat? Sobie serves up two types of veggie burgers. One is made from a portobello mushroom cooked to perfection. The other is a black bean burger made from scratch—and it's gluten free! And while fried cauliflower is making waves in the food industry, it's nothing new for Sobie. "My Dad and I used to fry cauliflower all the time. We would often joke about whose cauliflower was the best," he says.
If you know anything about food, you know that the brunch scene in Memphis is poppin'. Sobie has put his special touch on the brunch menu as well. He's serving up his famous chicken tenders with waffles, a brunch scramble, brioche French toast, and shrimp with deep-fried grits. Yes, deep-fried grits!
To be clear, there are no cornish hens on the menu. "I wanted the food to be different from what people would find at the food truck. I wanted food that was more bar, beer, and brunch friendly," says Sobie.
Flying Sobie's food truck will be permanently parked at the original Ghost River on Main Street beginning next year.
Sobie prides himself and his team on cooking simple, consistent, good food. He says, "I tell my cooks, 'If you put the egg on the left side, do it like that all the time.'
You want the customers to know that whenever they come, and when they come back, they can expect the same great food and service. Consistency is key."
While Sobie's food is enough of a draw on its own, you can't go to a brewery and not get beer. In addition to their lineup of locally brewed beers, GRB has created some amazing beer cocktails that pair very well with Sobie's menu. If you have any doubt in your heart about beer cocktails, prepare to be amazed. The Bald Cypress is like a watermelon mojito. It's a frozen beer cocktail that contains Ghost River golden ale. The Sweetspire Sipper is magically mixed with peach, pineapple, vodka, and Ghost River cream ale. Ghost River on Beale also has the Loblolly Punch, beermosas, and Bloody Beer. But don't let the last one scare you. It's a delicate mixture of Ghost River golden ale and a secret Bloody Mary mix, garnished with olives. Even if you're not a beer drinker, you will definitely enjoy these beer cocktails. They were not created to disappoint! GRB also serves their house-made seltzers, available in mango and black raspberry.
Ghost River is the only brewery in Memphis with a full bar.
Bob explains that they're a beer-forward bar that does not sell shots and closes at midnight. Marc "Pork Chop" Crum is the new head brewer and says the smaller pilot system on Beale will allow him to brew two barrels of anything he wants, allowing much more room for experimentation and creativity.
The food, drinks, and ambiance at GRB have created an atmosphere unlike anything else on Beale.
"I want this to be a comfortable place where people can eat and drink," Bob says.
"A place where you can step off of Beale and not worry about a rowdy crowd."
Don't leave without buying a bottle of Flying Sobie's Memphis Gold Sauce and Buffalo Wing Sauce. They're worthy of carrying around in your bag.
Flying Sobie's and Ghost River on Beale
341 Beale Street
Patricia Lockhart is a native Memphian who loves to read, write, cook, and eat. Her days are filled with laughter with her four kids and charming husband. By day, she's a school librarian and a writer, but by night—she's asleep. @realworkwife
Michael Butler, Jr., loves everything Memphis. His goal is to show the beauty in Memphis that others overlook. He's a photographer, videographer, Memphis tee collector, foodie, lover of tacos, and mayor of South Memphis. @_one901